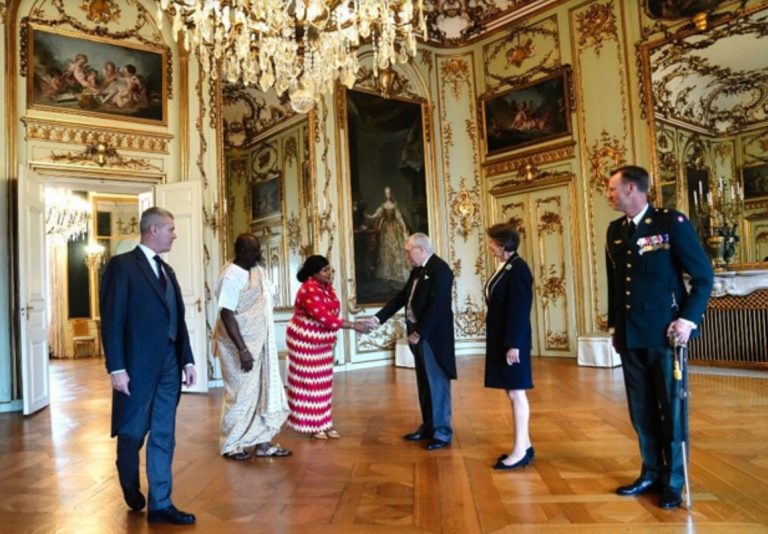 Her Excellency Mrs. Sylvia Naa Adaawa Annoh, Ambassador of the Republic of Ghana to the Kingdom of Denmark, presented her Letters of Credence to Her Majesty, Queen Margrethe II of the Kingdom of Denmark, on Friday, 5th November 2021 at the Amalienborg Palace.
The Ambassador was accompanied by her spouse, Mr. Daniel Afadi Annoh, to the ceremony.
Queen Margrethe II congratulated Ambassador Sylvia Annoh on her appointment as Ambassador to the Kingdom of Denmark and expressed the hope that she would make an important contribution to the development of friendly relations and cooperation between the two countries.
On behalf of the President of the Republic of Ghana, His Excellency Nana Addo Dankwa Akufo-Addo, Ambassador Sylvia Annoh conveyed warm greetings from the Government and People of Ghana to the Queen and People of Denmark. She expressed appreciation for the excellent bilateral relations that exist between Ghana and Denmark, and assured that she would work to further enhance the ties of friendship and cooperation for the mutual benefit of the two countries.
Later in the day, Ambassador Sylvia Annoh hosted her colleague Ambassadors, other diplomats and a cross-section of the Ghanaian community in Denmark to a Reception at the premises of the Ghana Embassy. She stated that her vision as an Ambassador would hinge on the following pillars:
The development of strategic partnerships at all levels for mutual benefit;
The introduction and availability of Ghana's export products;
The protection and promoting of the interest of Ghanaians;
The engagement of the Ghanaian diaspora in nation-building; and
The expansion of Ghana's trade relations with Denmark and Sweden is based on the principle of comparative advantage.
Representatives of the Council of Ghanaian Associations in Denmark (COGAD) and the Ghanaian Clergy in Denmark seized the opportunity to congratulate the Ambassador and pledged the support of the Ghanaian community for the successful execution of her duties as Ghana's Ambassador.
The Ghana Embassy in Copenhagen, Denmark, avails itself of this opportunity to renew to the Ghanaian community, the Government and People of Denmark, and all Diplomatic Missions in Denmark, the assurances of our highest consideration.
GHANA EMBASSY,
COPENHAGEN.