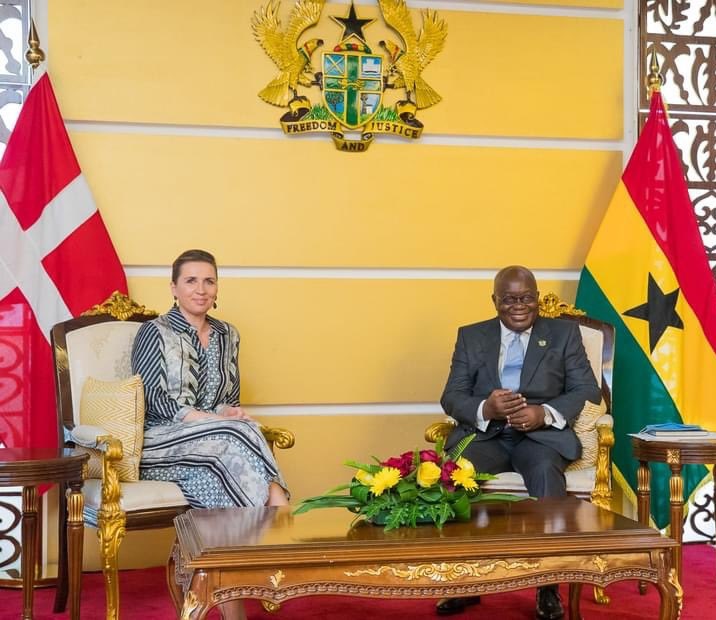 The Prime Minister of Denmark, Her Excellency Mrs. Mette Frederiksen, led a 15-member delegation on an official visit to Ghana, from Wednesday, 24th to Thursday, 25th November 2021. The visit was also to commemorate sixty years of diplomatic relations between Ghana and Denmark.
She arrived at the Kotoka International Airport of Ghana in the morning of 24th November, 2021, where a welcome ceremony was held in her honour, and the national anthem of Denmark and Ghana were played in turn. She was received at the airport by the Minister-of-State responsible for the Ministry of Works and Housing, Hon. Mrs. Freda Prempeh; Ghana's Ambassador to Denmark, Mrs. Sylvia Naa Adaawa Annoh; Denmark's Ambassador to Ghana, Mr. Tom Norring; as well as officials of Ghana's Ministry of Foreign Affairs and Regional Integration and the Danish Embassy in Accra, Ghana. The Prime Minister's delegation included the leader of Denmark's opposition party, the Danish Liberal Party, Mr. Jakob Ellemann-Jensen.
She was later that morning received by His Excellency Nana Addo Dankwa Akufo-Addo, President of the Republic of Ghana, at the Jubilee House. The two leaders, accompanied by relevant officials of the two sides engaged in high-level talks on bilateral and global issues, including Denmark's initiative in ensuring maritime security in the Gulf of Guinea, bilateral trade, the African Continental Free Trade Area (AfCFTA), and the upcoming African Union and European Union Summit scheduled for February 2022.
On the occasion of the Danish Prime Minister's visit to Ghana, the under-listed Agreements were signed between the two countries:
– Letter of Intent on Zero Emissions in Shipping (Signed by the President of Ghana and the Prime Minister of Denmark);
– Letter of Intent on Green Umbrella Water Solutions for Danish Projects (Signed by the Honourable Minister for Sanitation and Water Resources of Ghana and the Ambassador of Denmark to Ghana).
As part of the visit, Prime Minister Frederiksen and her delegation toured the Osu Castle, the Multinational Maritime Coordination Centre, the Tema Port (Terminal 3), the Chemu Bridge near Tema, and the Tema Newtown Potable Water Project.
Her visit is a further booster for Ghana-Denmark relations especially following the visit to Ghana in 2017 by the Queen of the Kingdom of Denmark, Her Majesty Queen Margrethe II.