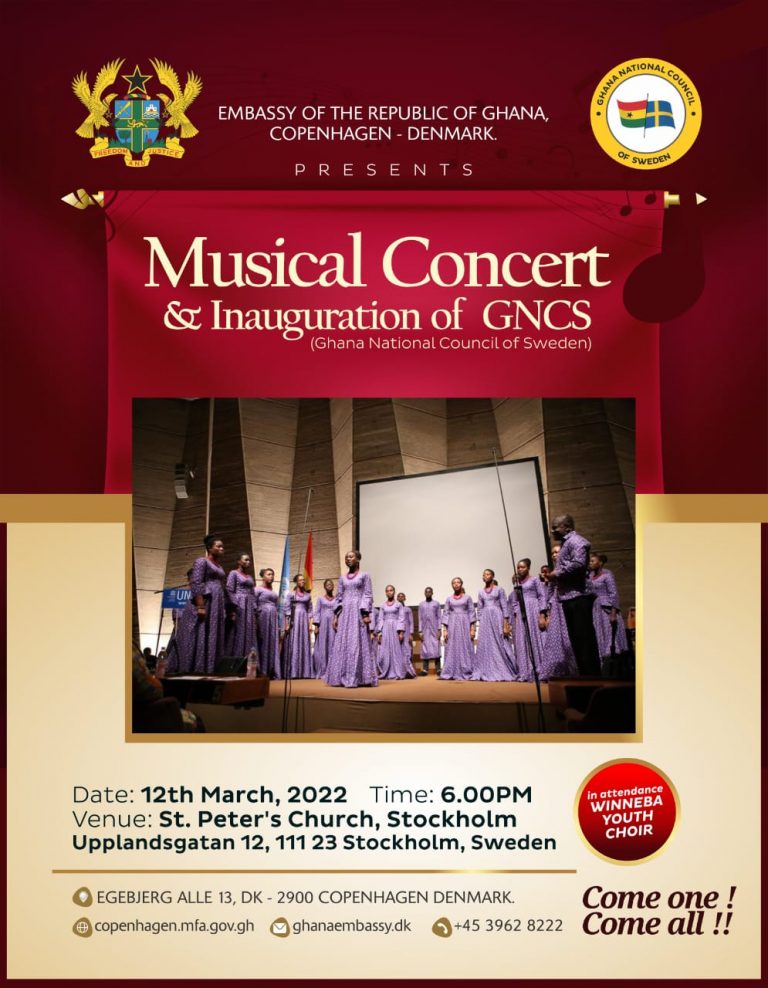 The Ghana Mission in Copenhagen in collaboration with the Ghanaian Swedish Association in Malmo organized a town hall meeting in Sweden on March 19, 2022, to educate Ghanaians on issues surrounding the acquisition of the Ghana Card.
The meeting which was in Commemoration of the 65th independence Anniversary of Ghana which fell on March 6, was held under the theme" working together, bouncing back together" and brought together Ghanaians from all walks of life living in Sweden to also discuss matters of mutual interest.
Addressing the gathering, H.E Mrs. Sylvia Naa Adaawa Annoh, Ghana's Ambassador to Denmark and Sweden assured them of the commitment and support of the Embassy as well as the strengthening of relations and the creation of a new focus and additional impetus of mutually beneficial relations.
She charged them to contribute their quota to development in consonance with her vision to bring to realization, an efficient diaspora engagement between the Embassy and the Ghanaian community across Denmark and Sweden, which will inure to the good fortunes of our families and loved ones back home; Adding, "My vision is of a diaspora that will contribute its quota to the development of our nation Ghana".
She encouraged them to form partnerships, encourage their friends to invest in trade in Ghana as well as contribute towards our country's development since most of them work with Swedish companies that could be invited to participate in Ghana's economic development agenda for possible strategic collaborations.
Ambassador Annoh also urged them to consider possible charity work, humanitarian support, medical donations, training opportunities, and educational scholarships that we can garner from Sweden to Ghana.
A representative of Margins ID Group, De – Sylvia Boatemaa Asare gave a comprehensive overview of the acquisition of the Ghana card including the problems associated with its issuance.
She highlighted some of the benefits of the Ghana card including effective planning for social inclusion and protection programs, improvement of voter registration, strengthening of branchless banking, and identification of tax evaders among others.
According to her, the high integrity of the database would further eliminate concerns of identity fraud as well as the non-duplication of identities in different data silos and doubts and controversies about the eligibility of persons for various services and facilities.
Mrs. Asare hinted at plans to register Ghanaians in the diaspora in selected regions beginning from May 2022.
The Chairman of the Ghana Swedish Association in Malmo, Mr. Patrick Asiedu-Frimpong thanked the Ambassador for her exemplary leadership and for the opportunity created for Ghanaians for the fruitful and healthy interaction during the town hall meeting.
He thanked the outgoing Consular Officer, Mrs. Priscilla Ankomah for her hard work and dedication to duty during her four-year duty tour in Denmark.