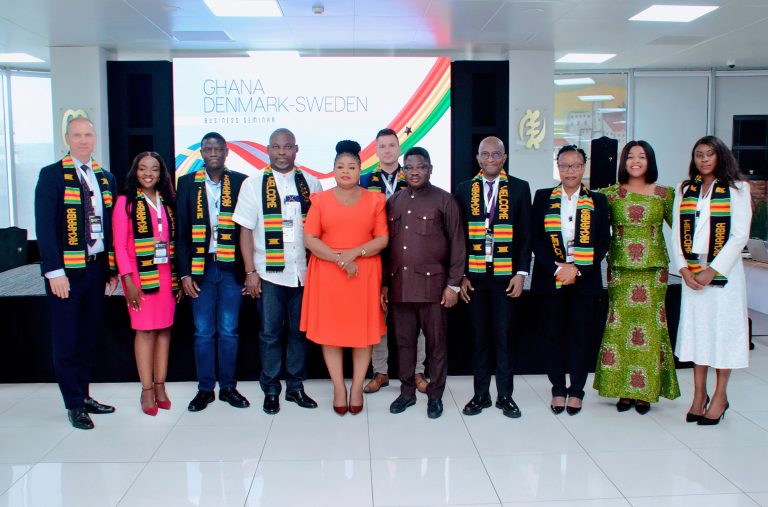 The Embassy of Ghana in Copenhagen, Denmark in partnership with the Ministry of Foreign Affairs and Regional Integration of Ghana and the Ghana Investment Promotion Centre, organized a business delegation visit to Accra, Ghana from Wednesday 25th – Friday, 27th October, 2023. The delegation visit, comprising six Danish and Swedish businesses, was led by the Ambassador of Ghana to Denmark and Sweden, H.E Mrs. Sylvia Naa Adaawa Annoh.
The six participating companies operating across several sectors in health, clean water technology, venture capital and investment, transportation, energy and agro-processing, included Manje Health, 4Life Solutions, Byteblocs International, Bio Innovation Institute, Motorhino Motorcycles and CT Technologies.
The business seminar was attended by the Minister for Information, Hon. Kojo Oppong-Nkrumah, the Deputy Minister for Sanitation and Water Resources, Hon., Amidu Issahaku Chinnia and the Chief Executive Officer of the Ghana Investment Promotion Centre, Mr. Yoofi Grant.
In her remarks during the business seminar hosted by the Ghana Investment Promotion Centre, H.E Mrs. Sylvia Naa Adaawa highlighted the importance of local partnerships and urged the businesses to leverage on the Government of Ghana's policies such as the digitalization and streamlining of business processes to ease market entry processes of companies.
As part of the visit, the delegates visited the Tema Port and the Ghana Free Zones enclave and were hosted to a reception at the residence of the Danish Ambassador to Ghana, H.E. Tom Norring.