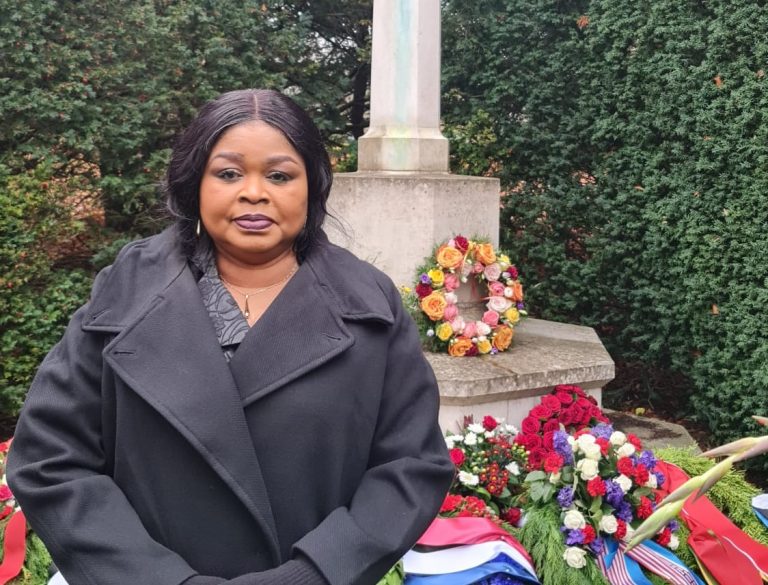 Her Excellency Mrs. Sylvia Naa Adaawa Annoh, Ambassador of the Republic of Ghana to the Kingdom of Denmark, joined her colleague Ambassadors, Military Attachés, and other dignitaries to commemorate the 2021 Remembrance Day in Copenhagen, on Sunday, 14th November 2021.
The annual event, which is spearheaded by the British Embassy in Copenhagen, is used to remember those who laid down their lives in the service of their countries during the two World Wars and since.
The event began with an inter-denominational Remembrance Church Service at St Alban's Church, Churchillparken, at 10.15 am, where Ambassador Annoh was privileged to read a Bible verse on behalf of the Diplomatic Corps. Thereafter, Ambassador Sylvia Annoh, accompanied by Air Cdre. Julius S. K. Dzamefe, Ghana's Defence Attaché in Copenhagen, proceeded to the Bispebjerg Kirkegård for the Act of Remembrance at 12.15 pm.
At Bispebjerg Kirkegård, Ambassador Sylvia Annoh laid a wreath on behalf of the President of Ghana, H.E. Nana Addo Dankwa Akufo-Addo, the Government, and the People of Ghana.
Ghana's flag was paraded in recognition of the Ghanaian lives that were lost during the two World Wars and in all conflicts since.
May the souls of the departed rest in perfect peace and may they never be forgotten.
GHANA EMBASSY,
COPENHAGEN.