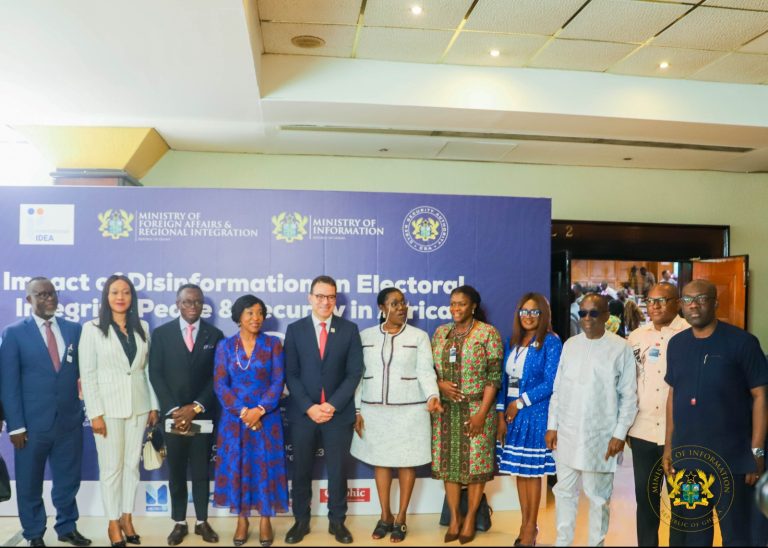 Ghana, as a member of the International Institute for Democracy and Electoral Assistance (International IDEA) since 2008 and current Vice Chair of its Council of Member States for year 2023, hosted a seminar on the "Impact of disinformation on electoral integrity, peace and security" on 19th October 2023 at the Accra International Conference Center.
The idea of the seminar was proposed by the Copenhagen Mission, which represents Ghana at International IDEA meetings in Stockholm, Sweden. Ghana hosted the seminar as part of its contribution towards promoting essential democratic principles in Ghana and Africa in general; to deliberate on the critical issues of mis-information and dis-information; and to seek constructive solutions as Ghana approaches the 2024 elections.
The seminar was organised by Ghana's Ministry of Information and the Ministry of Foreign Affairs & Regional Integration, in collaboration with Ghana's Cyber Security Authority (CSA) and the International IDEA. It was attended by about 300 participants and stakeholders drawn from diverse private and government institutional backgrounds, and members of the diplomatic corps.
Remarks to set the tone for the seminar were delivered by the Ministers for Information, Hon. Kojo Oppong-Nkrumah; Foreign Affairs and Regional Integration, Hon. Shirley Ayorkor Botchwey; National Security, Hon. Albert Kan-Dapaah; and Communications, Hon. Ursula Owusu-Ekuful, as well as the Chairperson of the Electoral Commission, Ms. Jean Mensa; the Secretary-General of International IDEA, Dr. Kevin Casas-Zamora; and Ghana's Ambassador to Denmark and Sweden, H.E. Mrs. Sylvia Naa Adaawa Annoh.
Two high-level panel discussions were held with key resource persons from academia, cyber security, communications, data, knowledge and information management spheres to assess the link between digitalization and social media in amplifying the reach and impact of disinformation campaigns, as well as to investigate the role of disinformation in exacerbating social inequalities and undermining peaceful elections, among others.
Participants were granted the opportunity to proffer comments, share perspectives and alternatives and ask questions during the Q&A sessions which were very lively and interactive. At the end of the seminar, strategic stakeholders present subscribed to a Communique that is to serve as a roadmap in guiding further discussions on the subject matter.