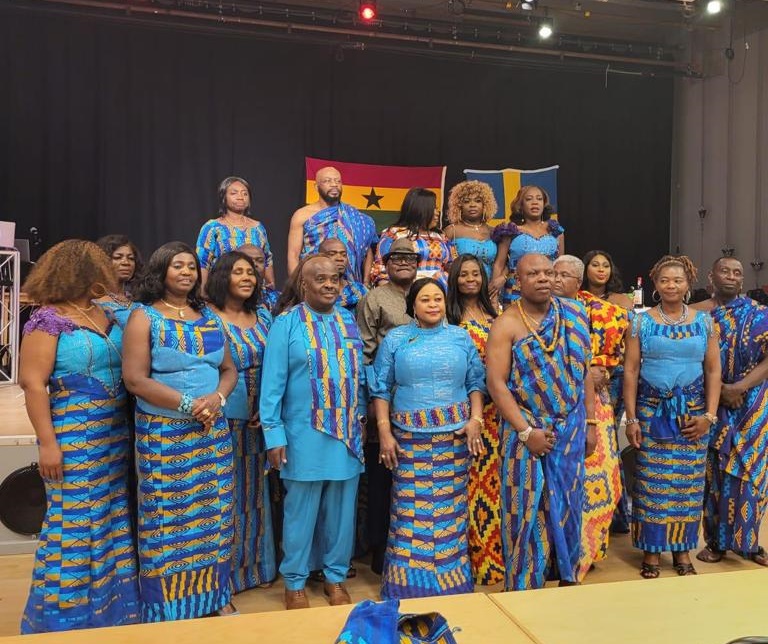 Ghana's Ambassador to Denmark and Sweden, H.E. Mrs. Sylvia Naa Adaawa Annoh, joined in the celebration of the 28th Anniversary of the Ghana Friendship Association – Sweden on Saturday, 29th April 2023, as Special Guest of Honour.
The Ghana-Friendship Association – Sweden was established by some Ghanaian diaspora in Stockholm, Sweden in the 1990's and sought to draw Ghanaians together and help them to effectively integrate into the Swedish Society. This was beautifully achieved by reaching out to Ghanaians in the region and also to relevant Swedish organisations and Swedish friends.
The 28th Anniversary celebration, with the theme "strength in diversity", served as an occasion to display Ghanaian culture, tradition, and clothes from various regions of Ghana, serve authentic Ghanaian dishes, and also strengthen unity amongst compatriots.
Ambassador Sylvia Annoh delivered the keynote address and expressed appreciation to the Executives and Members of the Ghana Friendship Association – Sweden for promoting people-to-people relations as an essential component of Ghana – Sweden relations. She also commended the Association's commitment to unifying Ghanaians in Sweden, and assured them of the Embassy's support to advance this vision.
            In showcasing a united front, the Members of the Ghana Friendship Association – Sweden were adorned in a blue beautifully designed kente cloth which further enriched the celebrations. Goodwill messages and words of encouragement were also shared by friends of the Association including Mr. Joe Frans, a Swedish politician of Ghanaian descent and former Member of the Swedish Parliament, and Ms. Ingrid Burgstrom, a Business Developer at Sensus Stockholm, Sweden.